We treat every client like our only client, our business depends on it!
Professional and Personalized Dog Walking and Cat Sitting Services
West Seattle, Burien, Normandy Park, Seatac and Des Moines
206.265.0471
Welcome! Heart 2 Heart Pet Care is a local, established and highly recommended dog walking and cat sitting service. Our goal is to provide you with exceptional pet care services.  We give your pets the love, care and attention they miss while you're at work or away. All of this in the comfort of their own home, just where they want to be!
Family owned and operated, established 2008

Company owners are always accessible, local and work in the business


We answer our phone and are happy to chat with you

We are not a referral service our team members work for us

Team members are employees. We do not use independent contractors

Employees are H2HPC trained, bonded, insured, background checked and pet first aid certified


All clients have a backup sitter/walker. Never a need to worry that your pets are being cared for

Personalized services tailored to your pet's specific needs

Each Client has their own personal online account

Easy online scheduling and credit card payments

We are accountable with GPS tracking and daily journals with photos at each visit.
Sample of a journal – our clients look forward to getting these each day!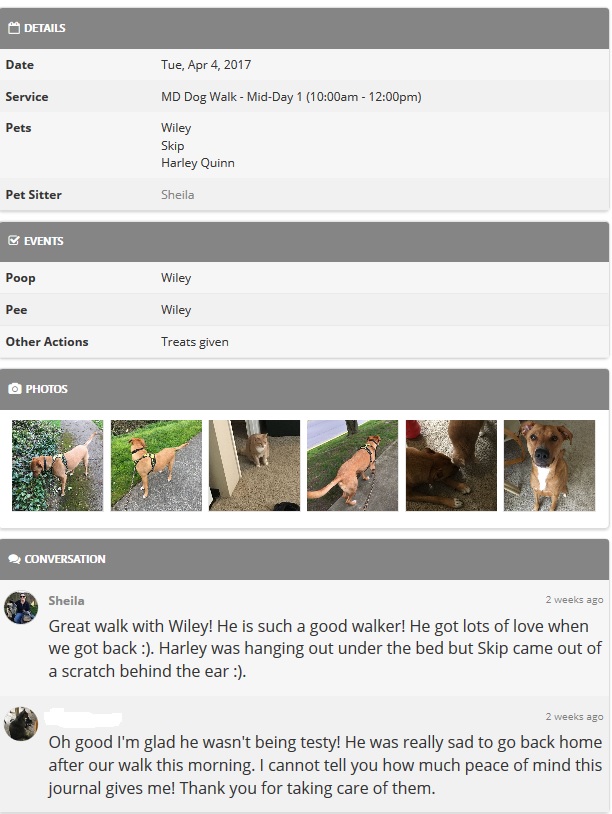 Frequently asked questions
Why is a team so important?
Life happens. People get sick, have family emergencies, take vacations, need time off for doctor appointments etc.  This is why we work as a team. Our clients appreciate the fact that they never need to worry that their pets will be cared for.
Are you insured and bonded?
Yes!  All of our employees are bonded and insured. They also go through two weeks of training with both owners and senior staff.
Do you run background checks?
Yes again!  All of our employees must pass a criminal background check before they are hired.
Trained in First Aid and CPR ?
Yes! Our sitters are required to take the Pro Pet Hero online training course for dog and cat first aid and CPR.
What areas do you serve?
We serve all of West Seattle, Burien and Normandy Park and areas of Seatac and Des Moines Zip codes 98106, 98116, 98126, 98136, 98146, 98148, 98166, 98168, 98198. Some zip codes are only partially served.
How do I get stated?
Ready to join our pet care family? Please call us at 206.265.0471. Or visit our scheduling page to get in touch via the contact form or to set up your online account. We will then get in touch with you.
Please visit our policy page for some helpful information about our consultations, keys, making reservations, returning home, holidays and policies,
What are your services & rates?
Dog Walking and Cat Sitting Services
$24.00 – $26.00 – Dog Walking
$26.00 – Cat Sitting Services
 $26.00 – Small caged pets, birds, Aquariums, Ponds
$26.00 – Dinner Visits***
$110.00 – Overnight pet care services***
***These services are only offered to our mid-day walking clients
How do I pay?
Payments are made by credit card and we require all clients have their credit cards on file. Pet sitting services are paid prior to service and weekly dog walking clients have their cards charged at the beginning of the week.
How do I schedule?
All scheduling must either be done through your online account, calling or by emailing the office.  We do not accept requests via text.
Do I have to have an online account?
Yes, everyone has an online account. Everything we need to know about you and your pets is stored there in one convenient place. We've heard from many clients about the ease of use, how much they love that all their information is in one place and that they can schedule and pay for services anytime of day or night.
Team members use journals to stay in touch. We've heard these can be the highlight of your day!  We offer these for both pet sitting and walking clients.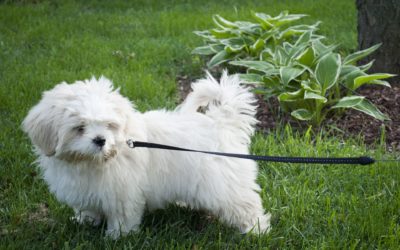 We walk dogs, its our job. We love walking dogs, we walk lots of dogs. Our clients love us walking their dogs. We both love that the dogs are walked in their neighborhoods. We want to have safe walks. But we can't. Why? Loose dogs! This is happening more often lately,...
read more