We'd Like to Introduce Ourselves
206-265-0471
About Us
We're here for all your pet care needs! From dog walking to kitty snuggling and everything in between. It's been our full-time commitment to provide you with professional and personalized pet care services since 2008. Heart 2 Heart Pet Care is owned by Kim & Jessica Hart and we love what we do!  Pet care is a personal business so we want you to feel comfortable about allowing us and our employees to care for your pets and entrusting us with your home. We are long-time local residents of the West Seattle / Burien and now Des Moines.  We serve and support our local and surrounding communities, our clients are where we work and shop. The concept of Heart 2 Heart Pet Care grew out of our love for animals and the occasional need for the same services we are now offering to you – to provide you with the option of leaving your pets at home in safe and familiar surroundings. Over the years, we've experienced many ways to care for pets, each with its own unique set of circumstances and that's how we'll care for yours. A big thank you to all of our clients for making us the success that we are, we couldn't have done it without you! Our employees are local to the areas they serve, trained by us, bonded, insured and background checked. Please visit our scheduling page or call us at 206.265.0471 to learn more about our services. We'd love to welcome you to our pet care family. Let us be your pet's new best friend!
Thanks for visiting!
Kim
Packleader - Pet First Aid Certified
Besides being the packleader,  I'm here to make sure your pets are always cared for, to step in and fill the role of pet sitter and dog walker when needed. I'm a pet lover, it's a requirement to be in this business! Over the years, I've cared for and loved a variety of pets. Dogs and cats of course but also cockatiels, parakeets, aquariums, hamsters, and even hermit crabs! My husband and I currently share our home with Ziggy and Stardust our Standard Schnauzers, Tristan our NorWestie (aka Mutt) and our newest addition Jaxson the cat.  In my free time, I love decorating and home improvement projects. Once you're part of our pet care family every pet is like my own.
Jessica
Packleader / Office Manager - Pet First Aid Certified
Jessica has been a partner and co-owner of Heart 2 Heart pet care since 2011. She's now filling the role of office manager along with visiting her favorite dogs and cats each day. Jessica adopted her first cat in January of 2014, Clementine, which grew her love of taking care of them even more!   She also has her baby Bella who almost didn't survive as a puppy due to Parvo. An experience like that puts in perspective of just how precious our fur babies lives are and how all the animals we take care of deserve the best so they can be as happy and comfortable as possible. She has always had a love of all animals since she was young. She has been a vegetarian for years and favorite animal (besides dogs and cats, of course) are pigs.  She is hoping sometime in the future she will be able to have an opportunity to take care of animals like a pig, or even a goat! Until then she is happy residing in Des Moines with her cat and taking her dog for walks at the beach and Marina.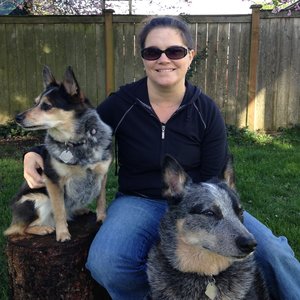 Sheila
Dog Walker / Pet Sitter - H2HPC trained - Pet First Aid Certified
After 18 years in the commercial lighting business Sheila has decided to follow her true passion of pet care. She comes armed with a lifetime of dog and cat ownership experience. Sheila is currently mom to 2 dogs, Ash an 11 year old Australian Cattle Dog, and Gypsy a 9 year old Brussels Griffin/ Australian Shepherd mix. Having lived with a pack of dogs where humans were outnumbered 2 to 1 Sheila has learned to speak the language of dogs and has a deep understanding of your companions need for exercise and social interaction with humans. Sheila and her husband have fostered dogs and one of those fosters became a permanent part of Sheila's pack about 10 years ago, Ash. When Sheila is not walking or sitting your beloved pets (or her own) you will most likely find her on a local bicycle trail rolling up some miles or working in her beautiful PNW garden and flowerbeds. She is excited to be part of the Heart 2 Heart Pet Care family!
Margaret
Dog Walker / Pet Sitter - H2HPC trained - Pet First Aid Certified
Margaret loves pets! Her first cat was rescued from a local animal shelter. The kitty was deaf, with heterochromic eyes and white fur, and had the sweetest personality – it was an instant connection! Over the past 10 years she has been surrounded by many amazing pets while living with roommates. She's also been the go-to pet sitter for her friends and family. She currently works at home as a graphic designer in her tiny West Seattle studio apartment. Although she doesn't have pets of her own at the moment, working for Heart 2 Heart Pet Care gives her the opportunity to visit with your furry companions which definitely makes the workday more interesting and enjoyable! She loves her job and is happy to spend her free time giving love to your animals!
Nadine
Dog Walker / Pet Sitter - H2HPC trained - Pet First Aid Certified
Nadine has lived with dogs and cats most of her life. She has learned from a young age that our pets need special care including grooming, brushing their teeth, tending to their nails as well as lots of exercise. Her current best walking buddy is Ginger her 5-year-old Vizsla. Nadine is also the go to for family pets including cats, dogs, hamsters and goldfish whenever petsitting is needed. She feels nothing is as rewarding as the love of an animal. Nadine also spends time caring for 5 hens and 1 rooster as well as a large vegetable garden and volunteering with the Master Gardener program. She is excited to be with Heart 2 Heart Pet Care and to help care for your special pet.
Kristina
Cat Sitter - H2HPC trained - Pet First Aid Certified
Kristina has been avid cat lover since a very young age. She and her cat Midnight share many adventures together. She enjoy cats almost more than life itself, and thinks our furry friends make life so much better.  Kristina adores engaging and petting cats, talking with them and listening to their beautiful singing voices aka purring. When she is not cuddled with pets, She also delights in reading, listening to music, and visiting the beach. Her two children also share a great love of animals. Being called The Cat Whisperer or Crazy Cat Lady is a good thing in her world. She is excited to be working for Heart 2 Heart Pet Care and can't wait to make more feline friends!
Bethany
Dog Walker / Pet Sitter - H2HPC trained - Pet First Aid Certified
Bethany is an animal lover.  She grew up with cats, dogs, fish and, on occasion, birds, hamsters, mice, and frogs. Having no children yet her cat, Hershey, and her dog, Piper are her fur babies that she loves to spoil.  Piper was a rescue that she and her husband adopted, trained and are continue working with some of her behavior issues.  Currently working at home on her book and an internet business, she loves the opportunity to get outside and check on your fur babies, even those that may have feathers or scales since her apartment is too small to handle any other critters.
Mike
Dog Walker / Pet Sitter - H2HPC trained - Pet First Aid Certified
Mike is an artist and graphic designer living and working from home with his mixed-breed mutt Tornado in the heart of Burien. He has been an animal lover all of his life and was raised on a farm in Indiana. Mike grew up caring for not only dogs and cats, but chickens, pigeons, pigs, sheep and cows. Having a special needs dog, Mike has learned to be observant of an animal's needs as well as staying hyper-aware of potential dangers while walking or transporting. Dogs have always been his passion, but he is a cat lover as well, and looks forward to spending time with them. Mike is also an avid reader, gardener and is interested in urban farming and green living.
Judy
Pet Sitter - H2HPC trained - Pet First Aid Certified
Judy is a life long Puget Sound resident. She has always consider her pets to be part of her immediate family. Whether it's camping or road tripping her Pomeranian Teddy is always along for the ride. When strolling the neighborhood her cat Tiger can be seen tagging along. I can vouch for this, since Judy is a long time client of ours! She is looking forward to meeting your pets and providing them with the care and affection they deserve while you're away. In her free time she can be found playing tennis or attending Mariner and Sounders games. Judy enjoys being active and engaged in outdoor activities.
Barb
Pet Sitter - H2HPC trained
Barb has lived with cats most of her adult life. About 10 years ago she rescued Luna and her brother, Marley. For 20+ years Barb has done pet sitting and house sitting for family and friends. When the opportunity came up to join Heart 2 Heart, she jumped at the chance. Barb says pets bring such joy into her life and she enjoys spending part of her day with a variety of dogs and cats. In her spare time, Barb likes to read, travel, explore new places and train for half marathons.